Iyengar bakery khara (spicy bread). Iyengar Bakery Khara Bread Khara Bread is a spicy Indian bakery style bread that is flavored with a sauteed onion and herb mixture. It is soft and delicious with a beautiful crumb. Extra Ingrediants for Khara Bread : Oil, jeera, finely chopped curry leaves, onions cut lengthwise, finely chopped coriander leaves, black pepper powder, green chilli paste.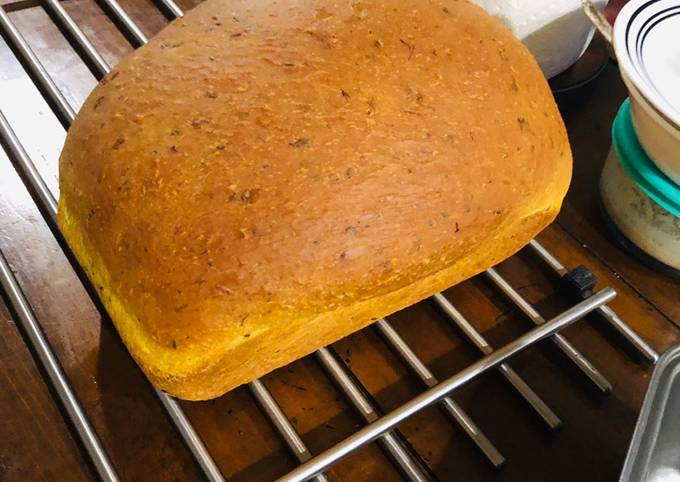 Meanwhile mix together flour,milk powder,salt and sugar. Chop the onions and greens (I used a manual chopper and chopped everything together). These lovely Iyengar Bakery Khara Buns are so Beautiful you will love it for all the flavours you enjoy when eating it. You can cook Iyengar bakery khara (spicy bread) using 15 ingredients and 4 steps. Here is how you achieve it.
Ingredients of Iyengar bakery khara (spicy bread)
Prepare 1 tablespoon of sugar.
You need 2 teaspoon of salt.
You need 3.5 cups of all purpose flour.
It's 2 tsp of yeast.
It's 1/4 cup of oil.
It's 1/2 cup of milk.
It's 1/4 cup of water.
You need of For the masala.
It's 1 of big onion finely chopped.
You need 1 of tspn jeera.
It's 1 of tspn turmeric.
It's 1/2 cup of cilantro finely chopped.
Prepare 10 of curry leaves.
It's 1 inch of ginger grated.
Prepare 4 of green chilies finely chooped.
Iyengar bakery is a famous bakery chain that originally started in Bangalore and is now famous all over India. Their unique and innovative baked goodies are to die for and something not to be missed. Khara bun (or masala bun) is one such item. 'Khara' means spicy in Kannada and these buns are made with a good amount of chilli kick. Iyengar bakeries in Bangalore are famous for these khara buns.
Iyengar bakery khara (spicy bread) step by step
.
.
.
.
Though I have been to the bakery few times, I have never tasted these buns. After taking the first bite, I understood why the buns were so famous. The buns were soft, slightly spicy and had a lovely flavor from the fried onions. The Iyengar Bakery Style Masala Bread Recipe is delicious and spicy open sandwich that is very popular dish in Bangalore. This recipe is a take on the Iyengar bakery bread from my hometown, Bangalore!